IWECOLOR, believe in color, believe in creation.

I have a four year old daughter and A Very Hungry Caterpillar is one of her favorite picture books from the age of 1. In her eyes, the caterpillar turns into a beautiful butterfly after eating a lot of food, which is so incredible. Because of the inspiration of this story, the caterpillar was the first thing I thought of when I conceived the logo of IWECOLOR . 3D printing process is like the process of the caterpillar spitting out silk, and the finished product is like the caterpillar breaking through the cocoon into a butterfly. I think we all have a colorful caterpillar full of infinite imagination in our hearts, and 3D printing can turn it into reality.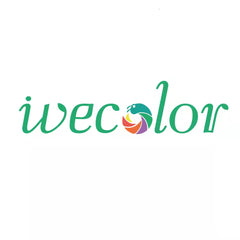 So when I bought my first 3D printer and gave my daughter my first work, "The Green Caterpillar", she loved it so much. She thought I was an all-around dad, and then she asked me to print a beautiful butterfly for her...
Also, I learned to use shapr3d to draw the IWECOLOR logo as a stl file and print it out. It was a challenging and rewarding experience.

Finally, the 3Duth team from the UK was infected by my story and helped us design a butterfly named IweFly (Free download here). They are all very friendly guys and their kindness is greatly appreciated. Now, IweFly is done, and my art wife helped color it. The butterfly is so realistic and my daughter loves it. 
We are very pleased to say, we will be breaking the cocoon into a butterfly (Caterpillar--->Iwefly) eventually!
Creating the IWECOLOR brand was the craziest decision we made this year. We had no experience in manufacturing at the source factory, so we relied on a friend's temporary abandoned workshop to set up two consumables production lines, and started our 3D printer filament manufacturing with the goal of solving the real pain points and real needs of consumers in the market. We hope that with our enthusiasm and our original intention to create the IWECOLOR, we can awaken more people who love 3D printing, and that environmental protection, colorfulness and creativity are our mission.

IWE is a young team, and our youth is like a colorful caterpillar that is trying to grow itself from birth. Lake blue is our beautiful beginning, green is our vitality, purple is our focus, orange is our creativity, red is our enthusiasm, yellow is our bright future, and finally IWECOLOR is going to transform into a world-renowned 3D printer filament brand.
IWE offers you not only colorful quality consumables, such as PLA 3D printing filament, PLA+ filament for 3D printer developed from the most common PLA/PLA+, but also more abundant printing filament and 3D categories such as PA/PVA/PC/NYLON in the future, and better services.
Please don't hesitate to contact us:
24-hour customer service email: support@iwecolor. com;
Bulk order, OEM and brand cooperation: sales@iwecolor.com
Office Address: B213, LongJing Park, Shenzhen, China
Manufacturer Address: Lane 2, Line 2, Erdu River, Dongguan, China